The Heron and Egret Society was formed in 2004 to promote the welfare of herons, egrets, and associated wading birds, especially in the Dallas area. We also provide a resource for anyone who loves these beautiful birds to share information and art. Most of our work is centered on the beautiful and amazing "Harry Hines Heronry" at Inwood Road and West Campus Drive, Dallas, Texas, 75390.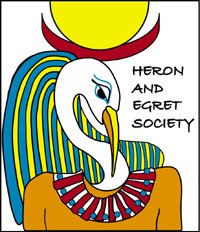 About our logo: The Egyptian god Thoth is traditionally represented by an ibis head on a human body. Thoth is a god of writing, science (medicine, astronomy, and mathematics) and teaching. Thoth invented the hieroglyphs and then wrote himself into existence. Society artist Diane Stewart designed this logo.
Natural History Section
Backgrounds for each species nesting in the rookery
Click for PDF of Interpretive Sign
Care of orphaned or injured birds
If you have found a bird in trouble CLICK HERE.
For more on bird rescue and rehabilitation see our Rescue section.
Help with water and food for juveniles
The juvenile birds definitely drink from the water troughs that our Society has placed for them around the woods. There is a white 6-gallon container of water near the memorial garden and another near the staff parking garage that can be used to refill the nearby troughs. After emptying the container, refill it from the faucet by the faculty parking garage. If you cannot manage the refill, let us know that you have emptied the container, and we'll organize a refill. Twice a week we put live minnows in the water troughs, and juveniles who cannot yet fly to White Rock Lake and whose parents are no longer caring for them really welcome the meal.
We need volunteers both to patrol the rookery and to deliver birds to Roger's. It is a good 45 minute round trip to Roger's, so we should coordinate trips. Birds waiting to be transported can receive first aid and a comfortable place to wait on campus. Call first (8-2079) to make sure someone is there.
For stories, poems, paintings, photographs and more featuring herons and egrets.